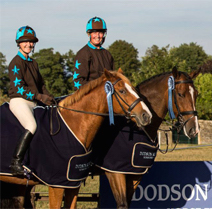 Let's hope that 2021 will not be as difficult or as challenging as last year! Whilst continuing to keep everyone safe, we're looking forward to our members enjoying lots of training, fun and friendship. We will resume tuition and our monthly Lunch Get Together as soon as possible; there is also a One Day Camp planned in June. There will be opportunities to compete in Club events and to represent WVRC in online, local and British Riding Club (BRC) Area competitions as well as Area and National Championships. Last year, despite so many events having to be cancelled, 15 WVRC members qualified for Championships and we were especially proud when one of our youngest members, ten year old Bethy and her lovely pony, Salsa, became the 2020 BRC National Junior Prelim Dressage to Music Champions.
Visit the What's On page to find details of the events and all the training opportunities the Club offers. The Wey Valley Riding Club (official) Facebook page provides regular news and updates and members also receive informative Newsletters via email.
Our excellent instructors are experienced at teaching all ages and riding abilities. They love to help our members have fun achieving their personal goals as well as preparing our teams for competitions. Training is offered in all disciplines and at a variety of venues throughout the year; it is also great value for money!
Events WVRC will be running this year include the BRC Area 11 & 13 Horse Trials Qualifier at Iping in June, our annual Summer Fun Show at Munstead in July and several Dressage Shows at Priory and Highbrook. The success of these events relies upon the support of our wonderful members, so please be aware that all our members are required to volunteer to help at 2 Club events each year. We find that having more helpers shortens the helper time 'slots' making it more fun for everyone! WVRC does not charge any online booking fees and members benefit from reduced entry fees to all Club events and subsidised team entry fees.
We always welcome ideas and feedback from our members; visit the Committee page to find their contact details. If you would like to join our fun, friendly Club, you can do so via the My Riding Life (MRL) form on the Membership page or by contacting the Membership Secretary, philippasnow@hotmail.com, 07768 741789.